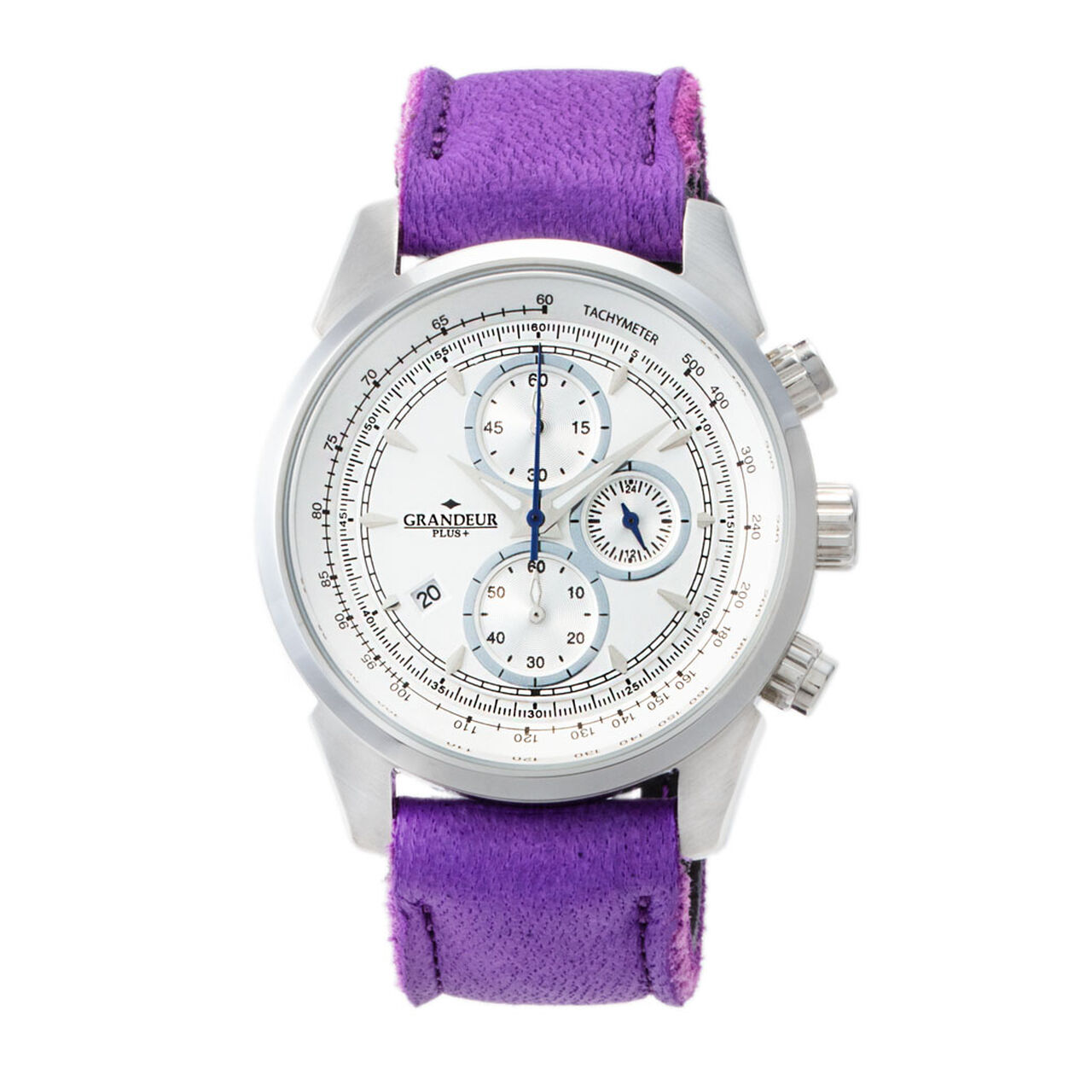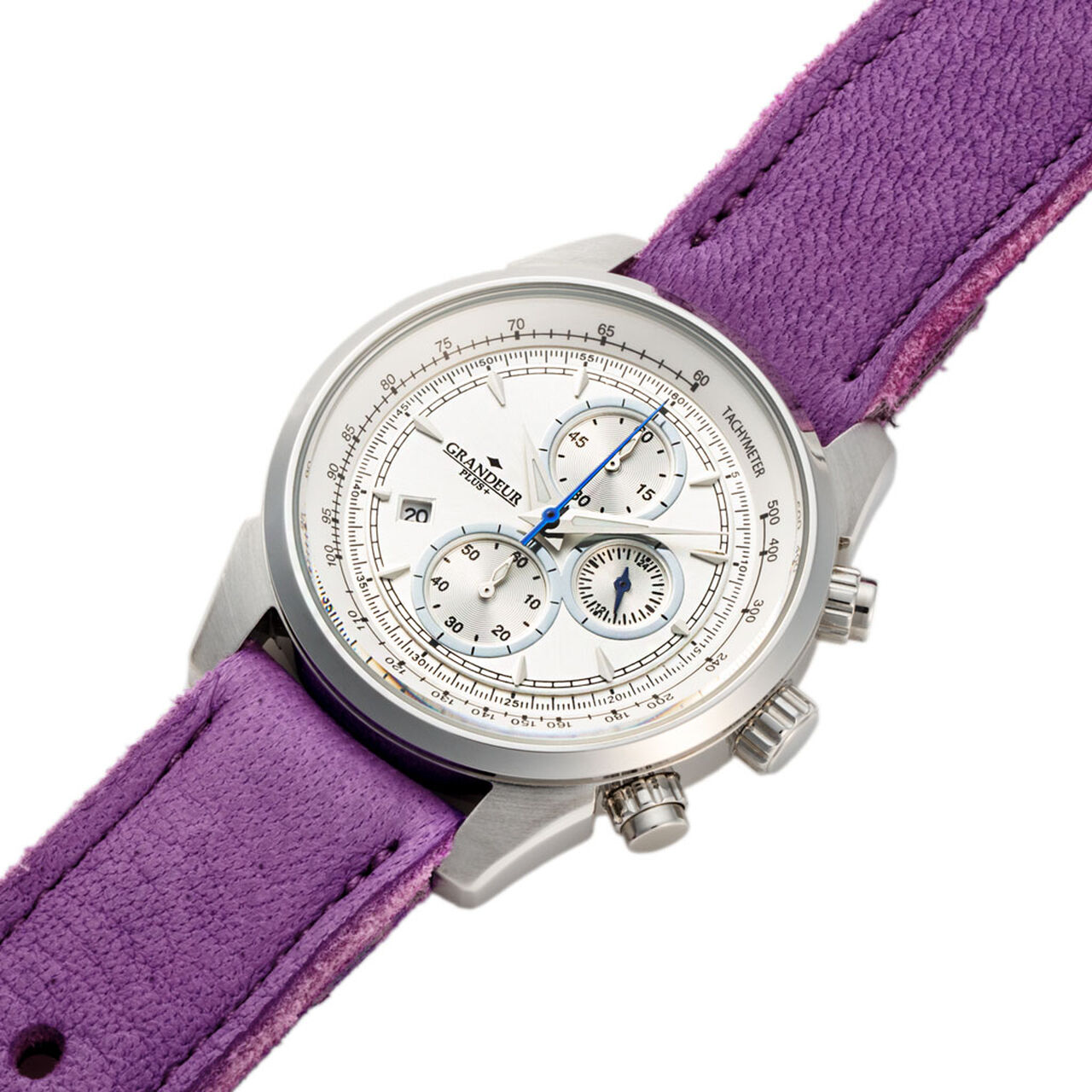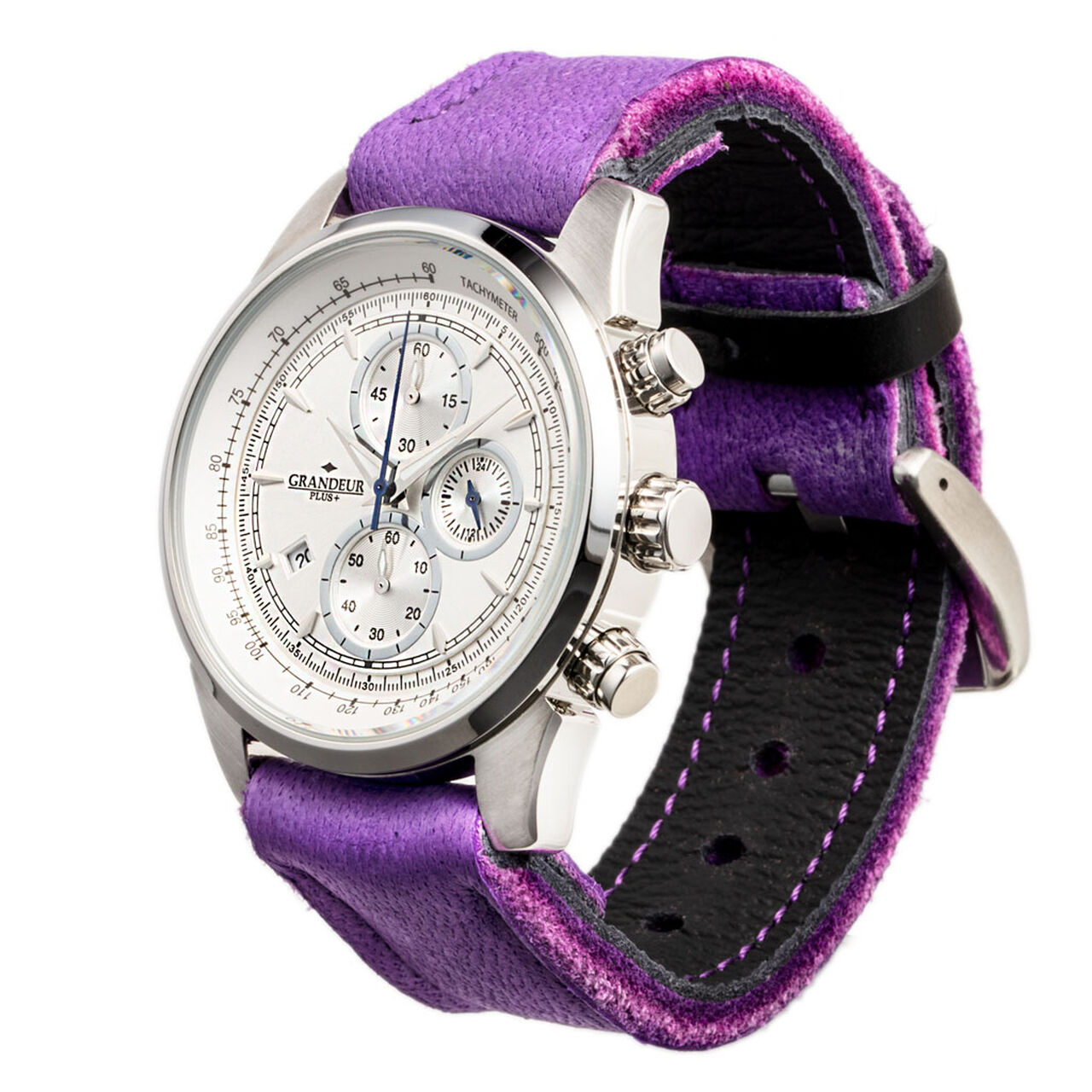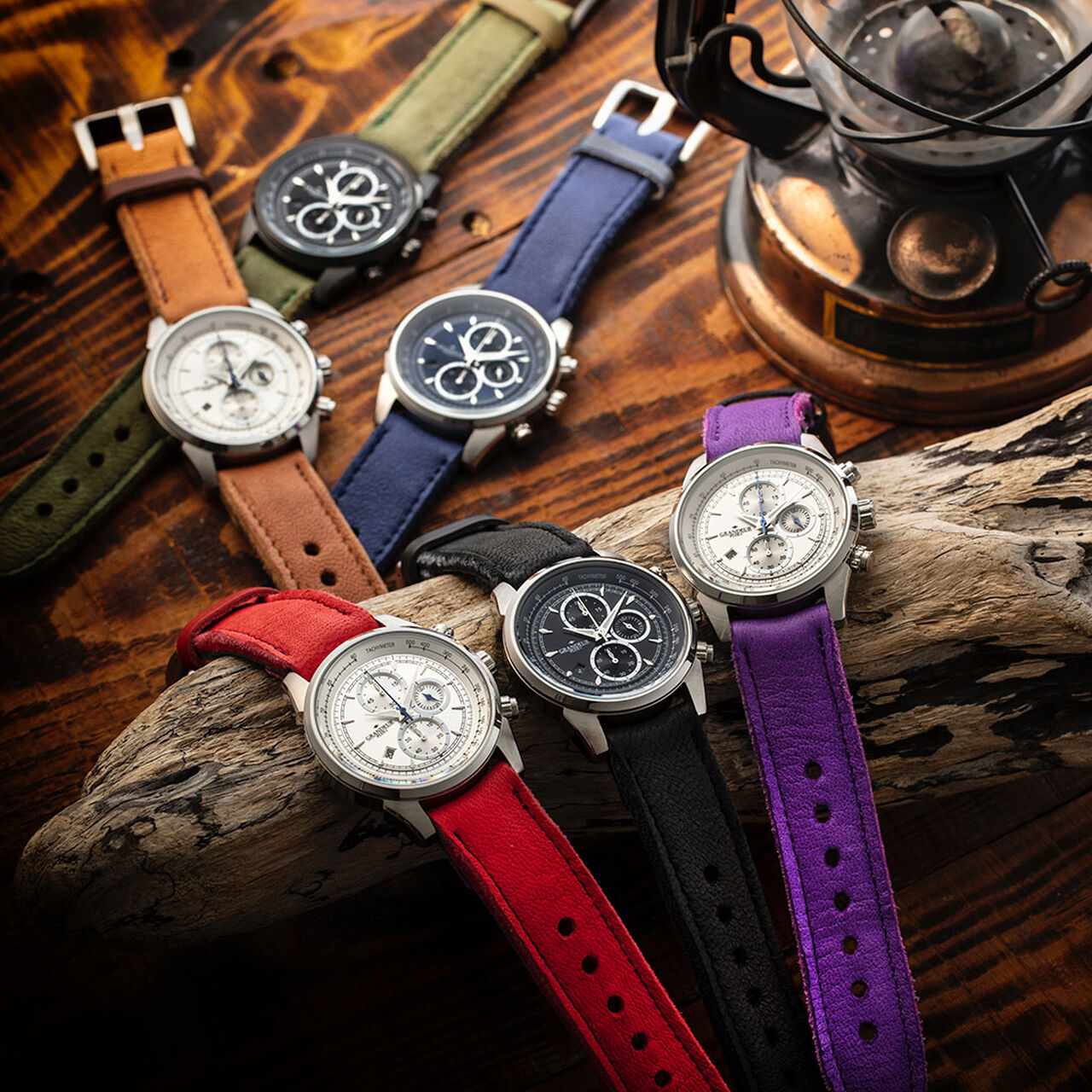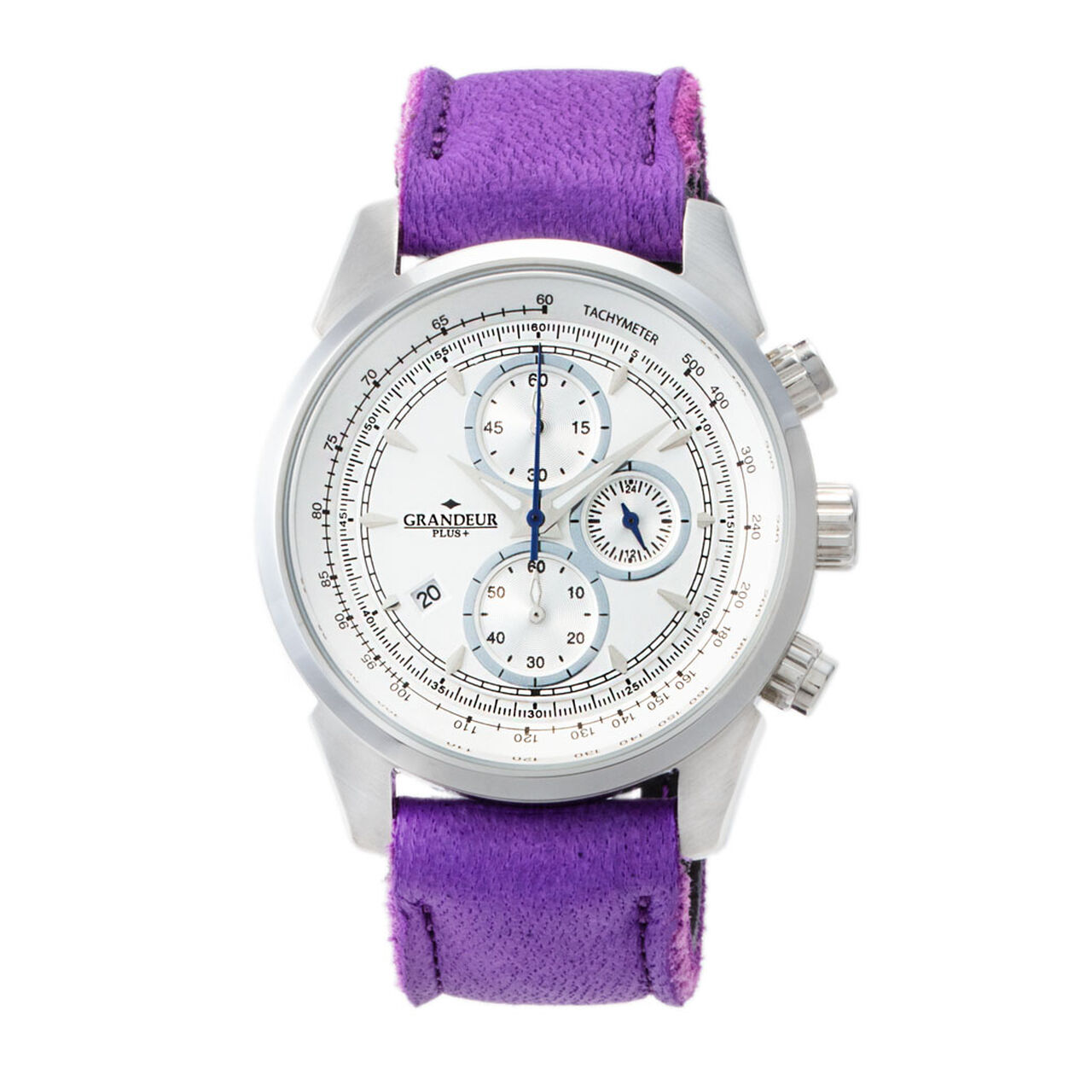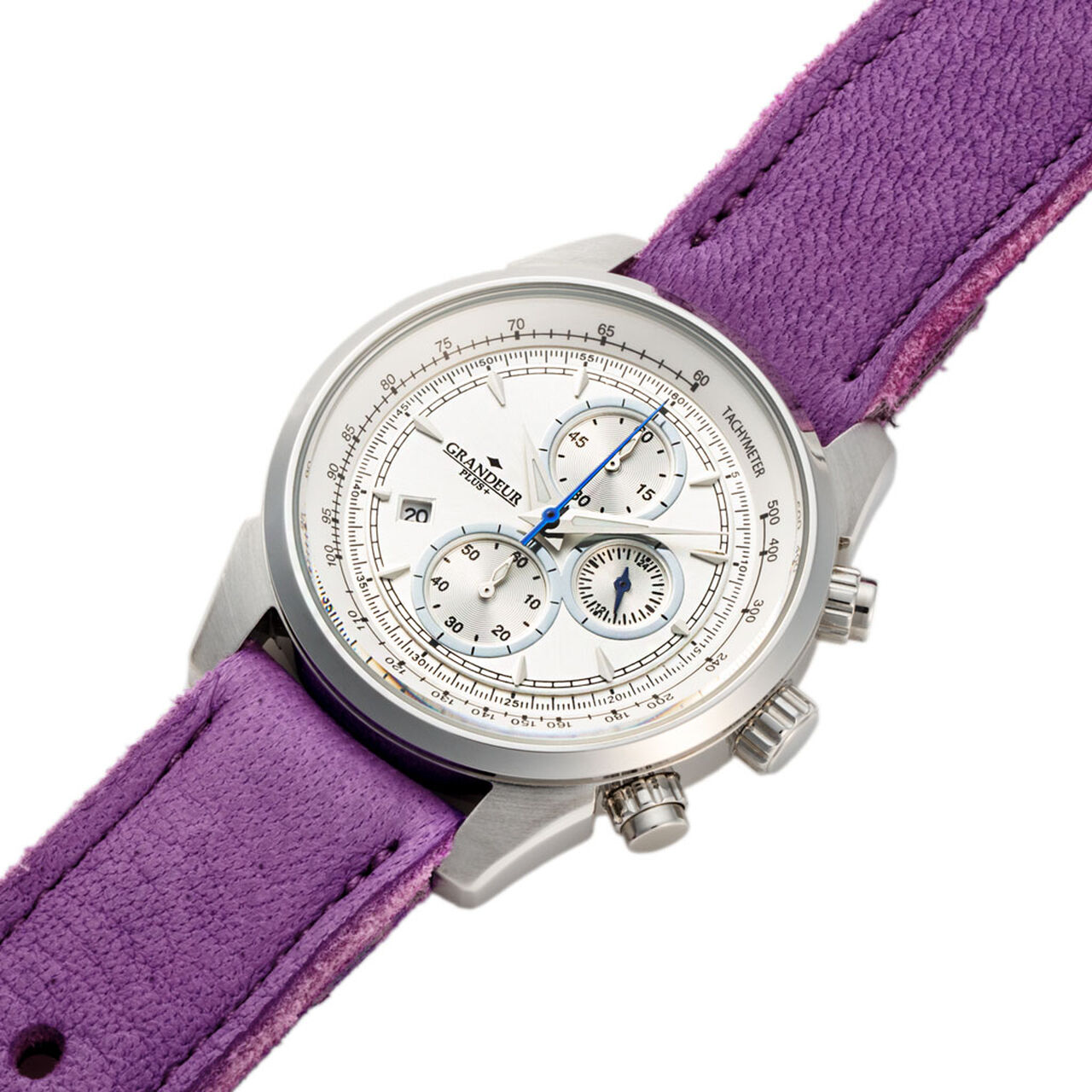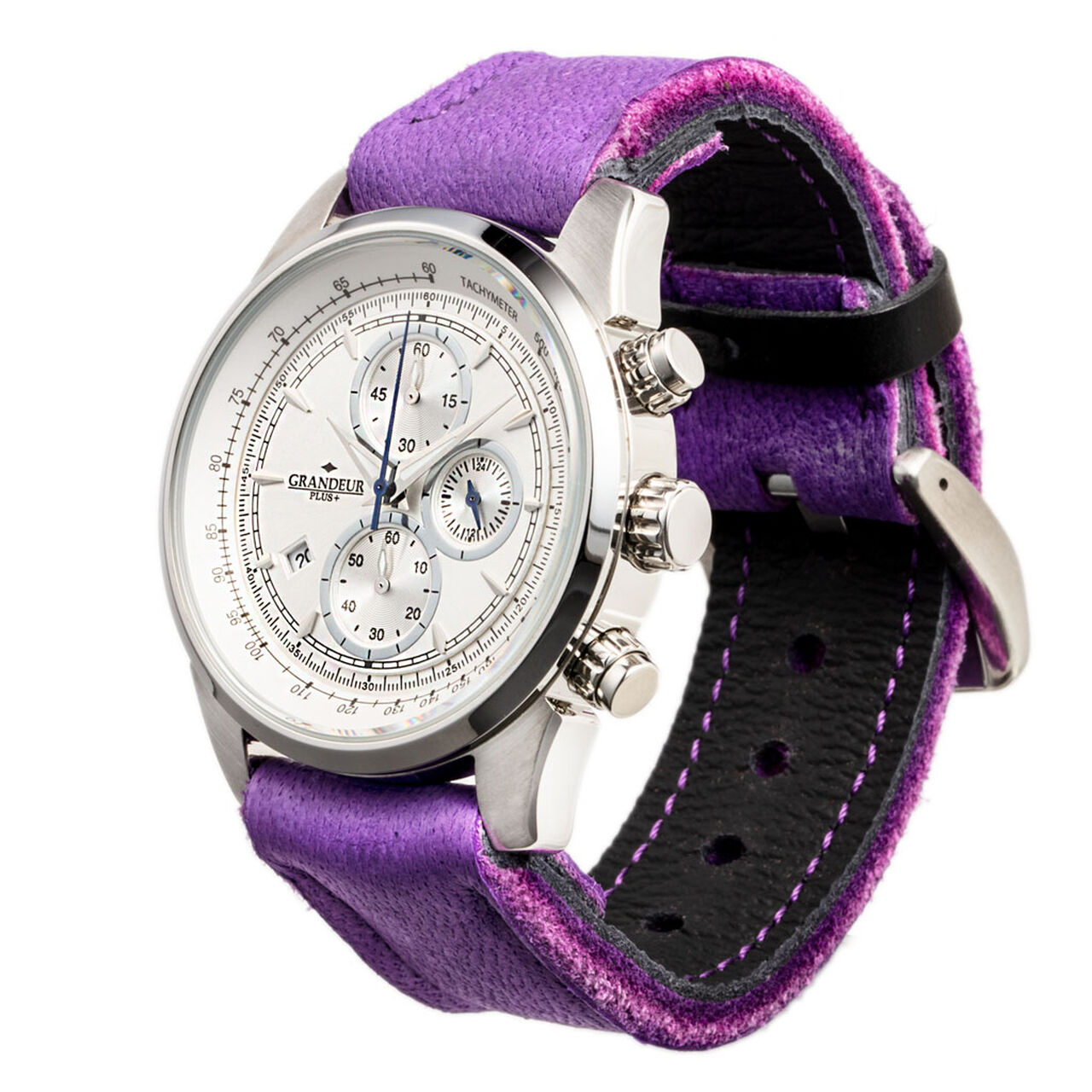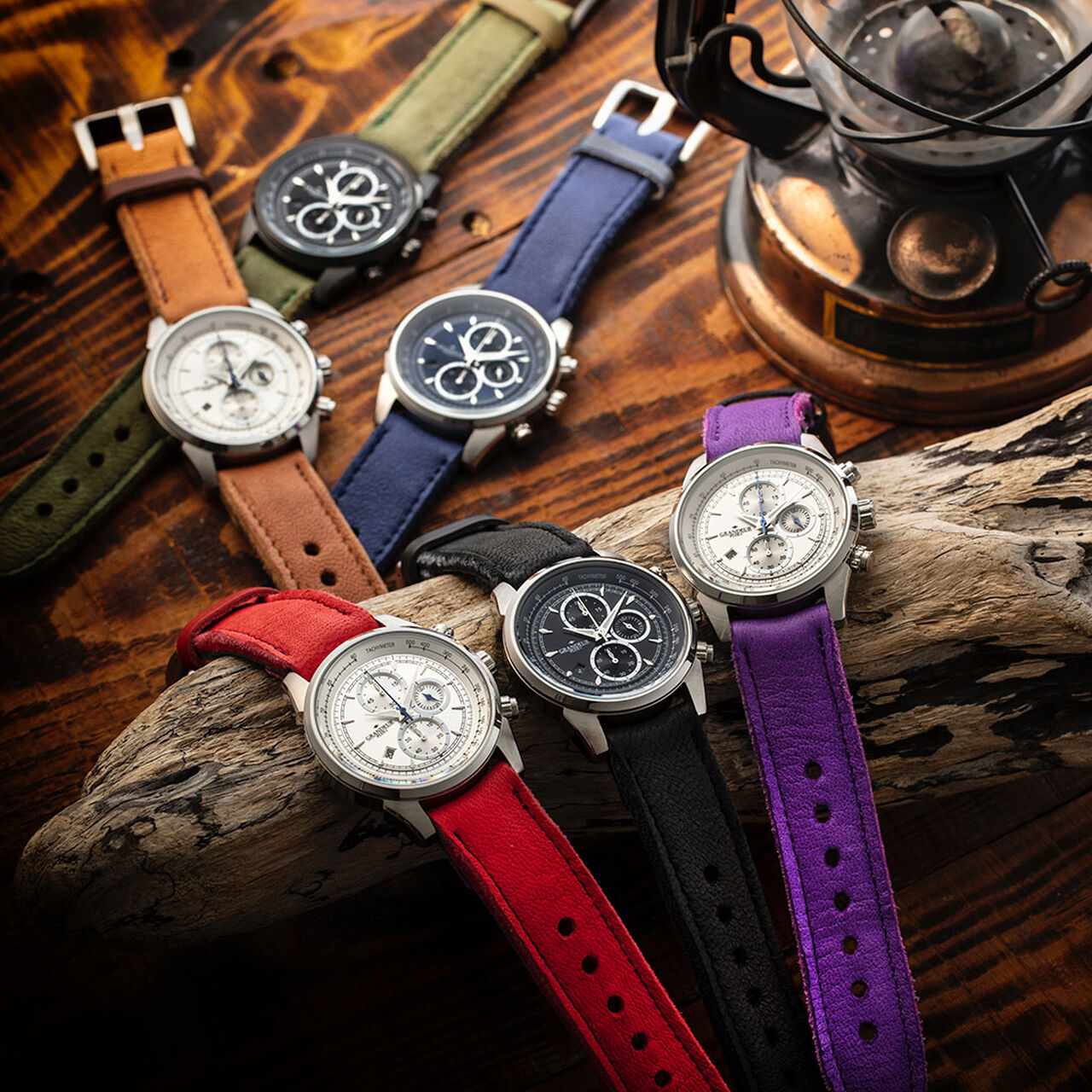 GRANDEUR PLUS
GRP001E5
GRANDEUR PLUS Chronograph
Short Description
GRANDEUR PLUS GRP001E Men's Watch Chronograph Elk Leather Wild Elk Finnish Elk High Performance Stainless Steel Leather Band PURPLE /SILVER CASE

GRP001E is a collaboration watch with Parley, a leather workshop. The main feature of this watch is the band made of Finnish wild elk leather developed with Parley, which is popular for its natural taste.
Parley imports raw hides (cow, deer, goat, sheep) from the U.S., Australia, Europe, Southeast Asia, etc., and makes leather goods using elk leather and original cowhide. We have a wide range of leather products made by experienced leather craftsmen in Japan, using carefully selected leather materials and professional techniques in a luxurious way.
The band is made of Finnish wild elk leather. Once you touch it, you will never forget its plush and thick texture, and the softness created by its 4mm thickness is a quality that only elk can produce. As wild animals live in the harsh Finnish wilderness, they fight and have many scars, so the scars can be enjoyed as part of the design.
The watch is also functional, with a Japanese chronograph movement with a smooth 1/5 second movement and water resistance to 10 ATM, making it an excellent product.  

The intense feeling you get when you first hold it in your hand will soon turn into a sense of satisfaction.

Case Stainless steel
Leather Band Leather Studio Parley Elk
Glass Mineral glass
Movement Made in Japan 1/5 second hand chronograph quartz movement with 3 hands (hours, minutes, seconds), date, 24-hour display
Time Accuracy Within ±20 seconds per month
Water resistance 10 ATM
Country of origin Made in Japan
Warranty Period One year from purchase
Accessories Exclusive cosmetic box, instruction manual, warranty card, limited edition Elk leather LCD cleaner included
Size 4.3cm (width) x 5.1cm (length) x 1.2cm (thickness)
Band size 22mm x 26.6cm, Thickness 4mm
Wrist circumference 15cm~20cm
Weight of the watch body approx. 90g
Shipping
We offer free shipping for all orders over USD 150 (or equivalent in your local currency)  
Delivery Company
We use world-class courier companies like EMS, FedEx and DHL to ship our products. 
Shipping Fee for orders under USD150 (or equivalent in your local currency)
USA: USD15
Taiwan: NTD280
Japan: JPY500
Hong Kong: HKD77
Europe: EUR12
UK: GBP10
China: CNY65
Australia: AUD20
New Zealand: NZD22
Canada: CAD18
Rest of the World: USD20 
Shipping Timeline  
Your order is expected to be shipped within 1-2 business days. Please note that our logistics partners work according to Japanese Standard Time and on Japanese business days. Most customers receive their orders within 5 business days.